Custom Order a 2023 Ford F-150 in Silverthorne, CO
Make light work of every challenging task in your future with the help of the powerful new 2023 Ford F-150 truck. We're preparing for the arrival of the 2023 F-150 release date at our Ford dealer in Silverthorne just like you are, and we're ready to help you map out the ideal auto financing plan for your lifestyle. From Ford F-150 price breakdowns to helping you custom order a 2023 F-150 in Colorado, we're here for you every step of the way. Review all the F-150 specs, features and more to get ready for the new Ford truck for sale you've always wanted!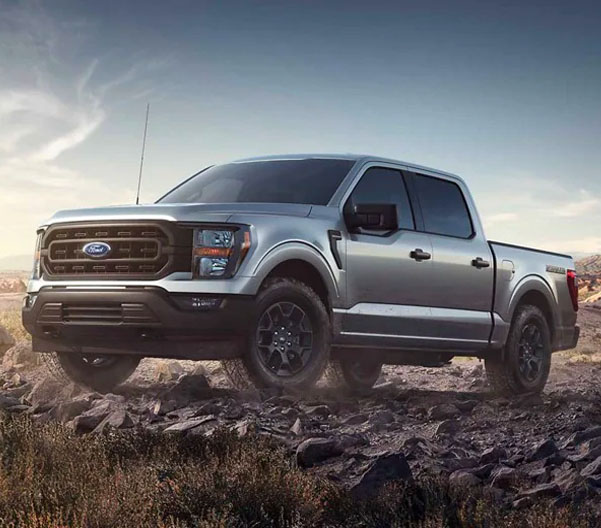 2023 Ford F-150 Trim Levels
The moment you sink into the driver's seat of your luxurious cabin, you'll never want to leave the MODEL. Let this CAR satisfy your greatest indulgences with interior incentives that include a leather-wrapped gear selector and a leatherette-covered center console. To entertain yourself and other passengers, opt for the innovative X-speaker sound system. Your music and more can be easily controlled, plus you can benefit from the XYZ navigation plus system. Additional interior perks can include:
2023 Ford F-150 XL
2023 Ford F-150 XLT
2023 Ford F-150 LARIAT
2023 Ford F-150 King Ranch®
2023 Ford F-150 Platinum
2023 Ford F-150 Limited
2023 Ford F-150 Tremor
2023 Ford F-150 Raptor
All-New 2023 Ford F-150 Heritage Edition
All-New 2023 Ford F-150 Raptor R™
All-New 2023 Ford F-150 Rattler™
2023 Ford F-150 Features & Specs
The impressive new 2023 Ford F-150 engine options, hauling power and interior amenities combine to make it a vehicle that Colorado Ford fans are head over heels for. Want to review the 2023 F-150 towing features or max payload capacity? Our team will be happy to go over all the F-150 performance features and highlights with you in detail. Plus, move inside the 2023 Ford F-150 interior and you'll find a wealth of features that will enhance every moment you spend in the cabin. Get additional details on the Ford Raptor R™ and 2023 F-150 Rattler™ now at Summit Ford for a truck that has no equal!
Order a Custom 2023 Ford F-150 in Colorado
If you're prepared to select from your 2023 Ford F-150 custom order options, contact Summit Ford or place your reservation online with us. We can help you claim your F-150 price and ensure you receive smooth delivery of the vehicle once it arrives. You deserve a hassle-free custom Ford ordering process, so turn to us when you want to finance a 2023 F-150 in Silverthorne. Make the most of your future with a custom 2023 Ford F-150 order now at Summit Ford in Colorado!